Afterpay at Wynyard Dental Clinic
Get the Smile You Want Now and Pay for It Later
Perhaps you've put off getting a dental exam or maybe you wish you could whiten or restore your teeth but don't know how you'll pay for it. You no longer have to put off getting the dental care you need or want at Wynyard Dental Clinic thanks to Afterpay!
This payment plan allows you to smile with confidence now and pay for that new and improved smile over four equal fortnightly payments. One of the reasons why so many dental patients use Afterpay is it allows them to spread out the cost of their treatment with no added interest and no additional fees.
Getting Started
To take advantage of this fantastic payment plan, you just need to take a few simple steps:
Sign up for Afterpay by downloading it on the App Store or getting it on Google Play.
Schedule your visit to Wynyard Dental Clinic.
Pay for your dental care in four equal payments. No extra payments are required.
Enjoy your stunning new smile!
Am I Eligible?
To be able to use Afterpay, you must
Have an Australian debit or credit card
Be 18 years of age or older
Live in Australia
Have a valid email address and mobile phone number that can be verified
Use a valid Australian bank payment card to use for your purchase
Have the capability to enter into a legally binding contract
We will take your first payment on the day you visit us for treatment.

How It Works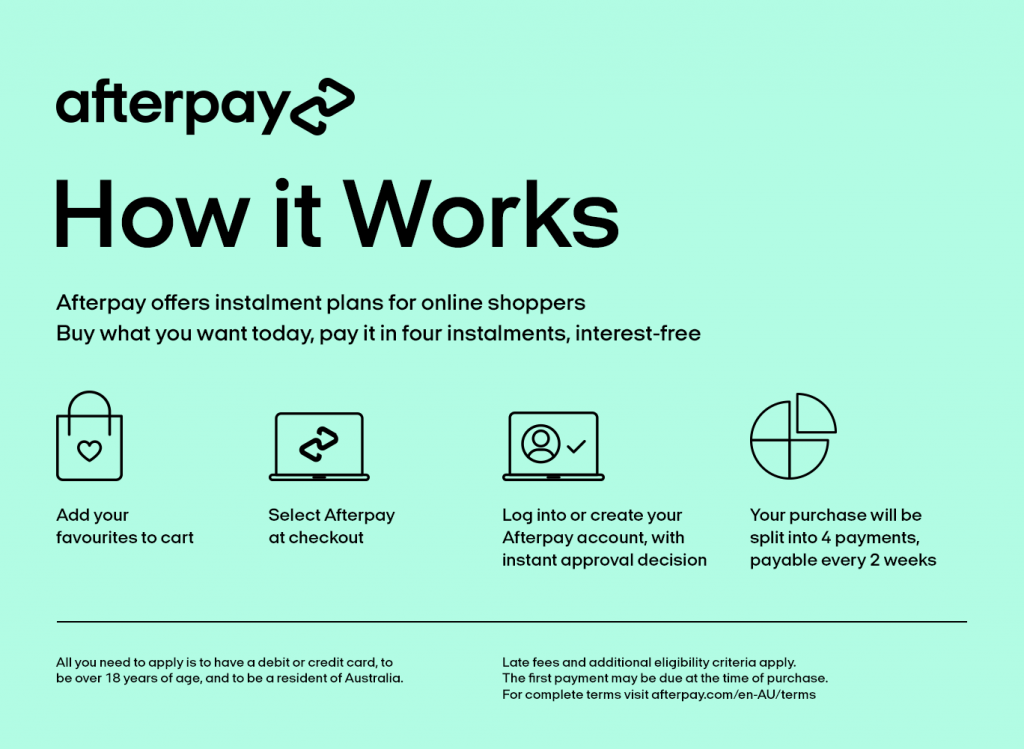 ---
FAQ
Can I use Afterpay for any treatment?
Yes, you can use it for any kind of dental treatment, including a dental exam, teeth whitening, fillings, implants and many others. Afterpay can cover up to $1,500 worth of treatment but it depends on your Afterpay account.
How much does Afterpay cost to use?
Afterpay is free to consumers. Service providers like Wynyard Dental Clinic pay Afterpay to help you purchase the dental treatments you want today. At all times, you will be able to retain control of your money.
Can Afterpay be used to pay the gap on a health fund?
Yes, Afterpay can be used to pay the gap from what your health fund has already paid.
When you sign up for Afterpay, you will be required to verify your identity. This step is needed so Afterpay can make sure you fit their profile and that you are not taking advantage through a false account.
You can check the status of your verification, and offer additional information online in "My Account" under "Profile Verification," and by clicking the Person Icon on the App.
Is Afterpay safe and secure to use?
Yes, Afterpay's chief priority is protecting the data of its customers. Founded in Australia, the company is listed on the Australian Stock Exchange and is subject to Australian laws and regulations. The company has achieved the maximum level of payment data security in the world, set by the PCI Global Security Standards Council.
Contact Us Today
If you have additional questions about Afterpay, we invite you to contact our Sydney CBD practice. We look forward to helping you get the dental treatment you want and need!
CONTACT US »
* Any surgical or invasive procedure carries risks. Before proceeding, you should seek a second opinion from an appropriately qualified health practitioner.

Dental Afterpay at Wynyard Dental Clinic | (02) 9262 5331