Traditional Braces at Wynyard Dental Clinic
Our family dentists have over 20 years of experience in comprehensive dental care, including orthodontic treatment! If you or your child needs braces, we offer convenient services with an oral health team you already know and trust.
Traditional braces are a proven and effective method to correct a variety of malocclusions (misaligned bites) in children, teens and adults. Almost everyone qualifies for conventional orthodontics because of how they work.
Do I Need Braces?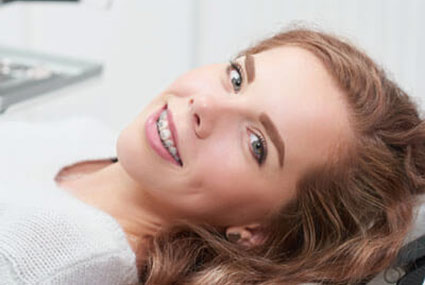 During your orthodontic evaluation, we'll take a series of pictures and a full-mouth X-ray to evaluate eruption patterns and tooth spacing. We may recommend braces or another type of interceptive appliance if there are conditions like:
Crowding
Gapped teeth
Crossbites
Missing teeth
Abnormal tooth wear
Overjets/overbites
Underjets/underbites
TMJ disorder
How Conventional Braces Work
Traditional braces are quite straightforward. First, we bond a small bracket onto each tooth at a specific location. Next, we weave a special wire through the brackets and hold it in place with a small rubber band or wire ligature. The curved archwire places a moderate amount of pressure on the teeth, bringing them into alignment with its shape. Our paediatric patients enjoy selecting various band colours for added flair.
About every six weeks, you have the wire changed out or adjusted to continue your tooth movement. Depending on the severity of your tooth misalignment, it may take anywhere between 12-18 months to complete treatment with traditional braces.
How to Clean Around Braces
Fixed orthodontic appliances like braces require diligent home care to prevent gum disease or cavities during treatment. Thorough brushing around each bracket (especially next to the gum) is essential; investing in an electric toothbrush is quite helpful. Use a floss threader or water flosser to clean between teeth at least once a day.
Too much plaque buildup around your braces can cause tooth demineralisation. This early stage of tooth decay creates white lesions and circular patterns on the teeth, next to the brackets. They're usually most noticeable after your braces are taken off. Taking your time to keep your teeth clean and intermittent fluoride supplementation are the best ways to avoid this process.
Do You Qualify?
Contact Wynyard Dental Clinic today to find out if traditional braces are right for your child, teen or yourself! We offer flexible payment options and insurance plans are accepted. Book an appointment today to get started.
CONTACT US »
* Any surgical or invasive procedure carries risks. Before proceeding, you should seek a second opinion from an appropriately qualified health practitioner.

Traditional Braces Sydney CBD NSW | (02) 9262 5331