Orthodontic Appliances at Wynyard Dental Clinic
Childhood screening for malocclusion (misaligned teeth and jaws) provides an ample opportunity to treat problems before they become more complex. During your child's orthodontic evaluation at Wynyard Dental Clinic, we'll check for things like crowding, impacted teeth, crossbites, finger-sucking habits, speech irregularities and premature tooth loss.
With orthodontic appliances, we can encourage proper tooth eruption and orofacial development before braces are necessary. We call this orthognathic approach "early intervention" or "growth modification."
Types of Orthodontic Appliances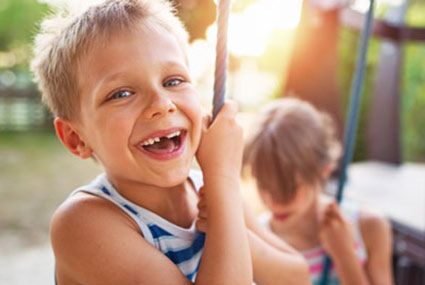 Some of the more common fixed or removable aids we use include:
Palatal expanders
Herbst appliances
Nance
Space maintainers
Bonded wires
Hawley appliances (retainers)
Age Requirements
Most orthodontic experts recommend scheduling an evaluation for every child by the time they turn 7. At this age, your child will have a combination of adult and primary (baby) teeth, giving us a good idea as to whether any concerns are starting to develop.
Early interceptive techniques allow us to correct smaller problems and encourage healthy biting patterns, reducing the time your child may need in braces later on.
During the exam, we'll take an X-ray to evaluate the development of the jaws, tooth positions and eruption patterns. If no concerns are visible, it will likely be another 3-5 years before we re-take this X-ray.
The Problem with Missing Teeth
If your child loses a tooth prematurely — whether it's due to an accident or an infection — it can leave a lasting effect on the teeth around it. Premature tooth loss usually causes adjacent teeth to tilt inward, impacting the adult tooth below. As a result, the jaws do not form properly; speech patterns change and teeth require orthodontic therapy to bring back into alignment. Such situations also contribute to problems like TMJ disorder, headaches and sleep apnoea.
We do everything possible to help your child preserve their natural teeth. But if an early extraction is necessary, an orthodontic appliance will be needed as well.
Health Insurance Accepted
For affordable orthodontic appliances, be sure to bring your health fund card with you to your appointment. We file all claims straightaway on HICAPS for your convenience. If your family qualifies for Medicare, your child may be entitled to up to $1,052 in dental services — including orthodontic treatments — under the Child Dental Benefits Schedule (CDBS).
Book a Consultation Today
Contact Wynyard Dental Clinic to request an exam for your child (or yourself) today. We'll let you know if orthodontic appliances Sydney CBD can help. Our family dentists have been caring for families like yours for over 20 years.
CONTACT US »
* Any surgical or invasive procedure carries risks. Before proceeding, you should seek a second opinion from an appropriately qualified health practitioner.

Orthodontic Appliances Sydney CBD NSW | (02) 9262 5331