Ceramic Braces at Wynyard Dental Clinic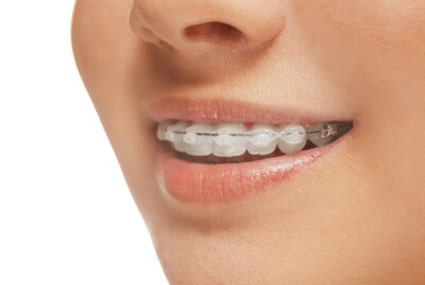 Have you been thinking about getting braces? If you're hesitant because of the look that comes along with metal brackets, we have a cosmetic alternative: ceramic braces.
About Ceramic Orthodontics
Ceramic braces work the same way as conventional orthodontic therapy, but their appearance is far more discreet. Since the brackets and wires are translucent or tooth coloured, your appliances blend in naturally with your smile.
The precise and comprehensive nature of ceramic braces make them a great alternative to Invisalign® if you have moderate to severe tooth misalignment.
Great for Our Adult Patients
Sometimes adults refrain from straightening their teeth because they don't want metal appliances or they don't qualify for Invisalign. With ceramic braces, we bridge the functional and aesthetic treatment gap. We can use them to perform comprehensive bite alignment or more problem-focused straightening that's limited to the front teeth (short-term ortho).
Adults make excellent orthodontic patients because they're committed to great results, follow their home care protocol as directed, and are invested in the best outcome possible. If you think you're too old to straighten your teeth, think again!
Advantages of a Straighter Smile
Aligned teeth and jaws may seem like the perfect accessory, but there's more to correcting a malocclusion than just aesthetics. Having properly aligned teeth can also help to reduce the extent of:
TMJ disorder
Migraines and headaches
Gum disease and Tooth decay
Fractured, worn teeth
Broken dental work
Dental emergencies
Creating a healthy biting relationship (occlusion) between your upper and lower teeth allows them to work more efficiently. As a result, your jaw works as nature intended, reducing strain on the muscles around it. Finally making the choice to invest in straighter teeth is something that can enhance your oral health at any age.
Your Treatment Process
Wearing ceramic braces means following a treatment protocol similar to traditional orthodontics. You'll want to visit our office about every six weeks to have the wires adjusted, so that the tooth movement will progress to the next phase. We offer flexible scheduling options so that you can fit your appointment in around work, without sacrificing too much personal time.
Most people typically complete their treatment in about a year. We'll be able to provide you with a firmer estimate at the time of your consultation.
Are You a Candidate?
Find out if ceramic adult braces are right for you! Contact Wynyard Dental Clinic today to book a ceramic braces Sydney CBD consultation. We've been providing comprehensive orthodontic treatment for over 20 years.
* Any surgical or invasive procedure carries risks. Before proceeding, you should seek a second opinion from an appropriately qualified health practitioner.

Ceramic Braces Sydney CBD NSW | (02) 9262 5331