Dental Implants at Wynyard Dental Clinic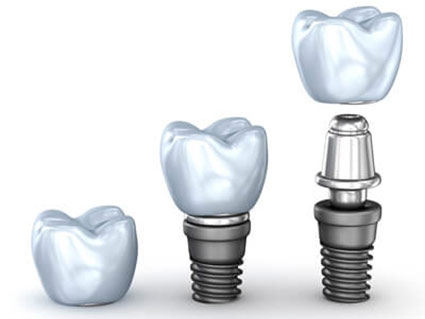 With missing teeth, you change the way you eat, talk and sometimes even the way you act in public. Fortunately, you can permanently replace them with a restoration that mimics the function and appearance of natural teeth: dental implants.
Implants are strong enough to support the weight of multiple teeth and predictable enough to last for life. Their biofunctional design mimics the structure of a tooth root, setting in the bone and supporting a fixed restoration on top.
No matter how many teeth are missing, dental implants can be a part of your full mouth reconstruction plan. We often use them in pairs to support multiple-tooth prosthetics!
Advantages of Implant Treatment
Compared to other types of tooth replacement, implants offer unique advantages like:
The best return on investment
Single to multiple-tooth reconstruction
Shaped like natural teeth
Extremely predictable
Non-invasive to other teeth
Support facial tissues
Enhance bone health
Preserve natural spacing of your remaining teeth
Other missing teeth treatments call for removable appliances or reshaping healthy adjacent teeth. Such situations require intermittent upgrades and re-treatment, setting implants apart from conventional tooth replacement methods.
Types of Implant Restorations
Since implants only make up the "root" portion of your missing tooth, you'll need a fixed restoration over it, attached via an abutment. For a single missing tooth, you'll need a crown. If it's two implants in a wider space of several missing teeth, a dental bridge is sufficient. You can also have as few as 4 implants to secure an overdenture.
Your Implant Surgery
Although dental implant placement is a type of oral surgery, it's relatively straightforward. All you need to feel comfortable is a small amount of anaesthetic. However, some people do elect to have nitrous oxide (happy gas sedation) or IV anaesthesia. Recovery is easier than having a tooth removed.
Mini Dental Implants Available
If you don't qualify for traditional implants because of bone loss or inadequate space, ask about our mini implant designs. Mini dental implants are less than half the length and width of a conventional implant, making them ideal for areas with limited room or bone support.
A Smart Investment in Your Smile
Find out if dental implants are right for you. Contact Wynyard Dental Clinic to book a consultation for implants Sydney CBD. We'll let you know if you qualify. Our experienced dentists will review all of the options with you to find one that fits your budget and lifestyle.
* Any surgical or invasive procedure carries risks. Before proceeding, you should seek a second opinion from an appropriately qualified health practitioner.

Dental Implants Sydney CBD NSW | (02) 9262 5331