Sedation Dentistry at Wynyard Dental Clinic
Feeling anxious about going to the dentist is more common than you might think. Dental anxiety can range from mild to so severe that you're not able to get the treatment you need. It affects people of all ages.
Fortunately, sedation dentistry can ease your mind and nervousness. Thanks to our in-house sleep dentistry services, you can feel relaxed or more like you're napping, depending on the strength of sedative that you choose. Our dentists and licensed anaesthetist provide a safe atmosphere where you can feel calm and comfortable.
Types of Dental Sedation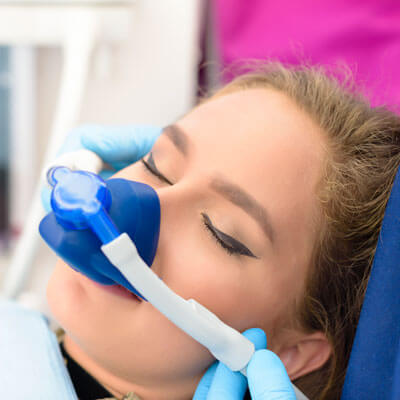 Happy Gas — Nitrous oxide (inhalation sedation) is gentle and fast acting. We place a soft nosepiece over your nose, and you'll breathe in a combination of pure oxygen and nitrous, creating a calm and sometimes tingling sensation throughout your body. You'll be fully conscious and able to communicate with our team but will experience less anxiety and discomfort. As soon as your treatment is completed, the nitrous is fully reversible so that you can drive home on your own.
Intravenous Sedation — Also called "twilight sedation," IV sedatives are administered by a licensed anaesthetist. Although you'll technically be conscious, most people feel as if they're dreaming or are unaware of what's going on around them. This sedative is fast acting and precise, providing maximum comfort for longer or more complex procedures. Since the effects take a bit longer to wear off, you'll need to have someone with you to take you home afterwards (the drowsiness can last for a few hours).
Why Consider Sedation?
Some of the most common reasons we suggest dental sedation at Wynyard Dental Clinic are for situations involving:
Lengthier or more complex appointments
Situations where a patient is unable to sit for longer periods of time
Hypersensitive teeth
Previous bad experiences in a dental office
Mild to severe dental anxiety/phobia
Sensitive gag reflex
Extensive dental health needs due to delaying care
If you're unsure about requesting sedation during your treatment or you need more information, our team will be happy to discuss any questions that you have. Most people find that opting for a sedative helps them to access the care they need; you may have wished it was something that you did sooner!
Local Sedation Dentistry
Contact Wynyard Dental Clinic today to request a consultation for dental sedation Sydney CBD. We're happy to accommodate your needs.
CONTACT US
* Any surgical or invasive procedure carries risks. Before proceeding, you should seek a second opinion from an appropriately qualified health practitioner.

Sedation Dentist Sydney CBD NSW | (02) 9262 5331